Microsoft Partner
Blue Curseur is part of Microsoft for Startups Founders Hub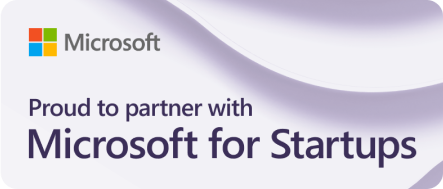 Try New Way of MVP Software Development. Fast. Flexible. Reliable.
Tech partner for startups and startup accelerators
MVP development
Blue Curseur provides project-specific business and technical app development consultations for startups : Ideas evaluation, Proof of concept, Tech stack consultation & Project estimations
Reliable technical partner
We assist startup companies in technical planning and project implementation. High-quality source code, Dedicated team scalability and flexibility, Transparent cooperation & Fast development cycle
Sharing expertise
We're ready to share our knowledge about business and technologies with emerging Startups. We will help to organize conferences, meetups, and other activities and promote them as a part of the overall marketing activities.
How we can help you... ...in many ways
Branding & Marketing
We offer logo design, marketing and digital strategy, and website creation services. Our expertise can help enhance your brand and online presence. With a focus on creativity and user experience, our team strives to deliver tailored solutions that meet the unique needs of each client.
Web development
As a web development company, we specialize in creating both websites and web applications. We have experience in developing various types of websites, from basic informational sites to complex e-commerce platforms, as well as custom web applications that offer advanced functionality and user interaction.
Mobile development
As a mobile app development company, we specialize in creating custom mobile applications for our clients. Our team has experience in developing apps for both iOS and Android platforms, using various programming languages and frameworks.
Why choose us
We not only develop Minimum Viable Products for startups, but we also make them Minimum Valuable Solutions.
Web & Mobile Development: We take care of the complete development cycle, including design, planning, testing, and deployment. We emphasize on quality, to match the requirements of our very demanding customers (security, performance, robustness, maintainability). Our development stack (React.js, Node.js, GraphQL, PostgreSQL, NoSQL) supports incremental development, from prototyping to large software architectures, seamlessly. We put value creation at the heart of the development process. We build products, not programs.
Time-to-market is a key factor in innovation. We start actual developments no more than 2 weeks after the project starts. During this « sprint zero », we apply a proven process inspired by Lean Startup. We frame the requirements, define key success factors, draft personas, lay down the vision of the final product, make the first technical decisions, and prioritize the initial user stories.
We develop in « sprints » made of:
2 dedicated full-stack developers
a faciliatator working half-time on the project
the assistance of an engineering expert
during 2 weeks
with a complete software factory
We work remotely from our offices in France, but we meet our customers every day via video and chat. We also book an entire day at the end of every sprint for the demo, retrospective, and planning of the next sprint.
We agree at the beginning of the project on the number of sprints, to make sure the budget is respected and the team is booked for the duration of the contract.
Our teams follow rigourous, high-quality standards so that the applications we develop are robust, secure and fast. Documentation, deployment automation, continuous integration, stress and penetration tests, and a realtime business goals dashboard come with every project. If you need performance, rest assured: we've already built high-traffic web applications (up to 100,000 concurrent users), so this is our bread and butter.
We've been working as IT contractors successfully since 2012, with customers all around the world. We develop the code for you, you own it, no legal worries.
BoothSquare helps Fairs & Event organizers to increase their revenues, lower their costs and improve the quality of their operations & business processes. BoothSquare aims at connecting exhibitors and people wishing to book a booth.
2022
Dreebz is a global directory of Experts worldwide. Dreebz help you to find your experts and help experts to increase their revenues, lower their costs and improve the quality of their services & business processes.
2022
This powerful new App is a universal intervention which gives every patient the tools they need to prepare for surgery and recover faster. MySurgCompanion also includes a series of screening tools which clinicians can use to rapidly risk stratify and identify patients at a higher risk of complications. (Project under construction)
2023
Visitme.Doctor is committed to offering healthcare professionals all the technology on a single platform. VisitMe.Doctor is the platform that allows you to control the time of remote consultations.
2021
R-Xcel Training's programs are tailored to meet the specific needs of each client, ensuring that participants receive practical, relevant, and effective training.
2022
EVM Finance is a specialized firm that provides expertise in four key areas of corporate finance: financial control, management control, internal control, and training.
2023
We took charge of the marketing strategy for Dreebz. We conducted a thorough market and competitor analysis, as well as a market study among potential customers to understand their needs and expectations.
2022
We developed the launching strategy for Guesthouse Dakhla 1975, a new boutique hotel located in the Dakhla region of Morocco. Our main objective was to create a unique brand identity for the hotel and position it as a premier destination for travelers seeking a luxurious and authentic experience.
2023
We were responsible for the rebranding strategy of HQS. Our goal was to refresh the company's brand identity and positioning to better reflect its expertise and leadership in the industry, while also appealing to a wider audience.
2022
We refreshed the visual identity of SensiRenov, designing a new logo and visual system that communicated the company's professional approach and attention to detail. We also developed a new website and marketing collateral that showcased the company's services and expertise.
2022
1.Product planning
Discovery phase & business analysis
2.Assessment
Requirements engineering - development time & cost estimation
3.Software development
Backend & frontend development - user experience & interface design
4.Testing
Testing & stabilization - infrastructure management
5.Mvp delivery & maintenance
Testing - new feature development - software maintenance
HOW ?
How is It All Done?
We helping client to create with our talented expert.
Request
We receive and process your request. To protect your business idea and materials, we suggest signing an NDA.
Project Discuss
You discuss your MVP idea with our Business Development Manager, Business Analyst and Software Architect to clarify requirements.
Business Proposal
Once the idea is discussed, we prepare and present to you our business proposal defining the suggested approach, functionality, architecture, time and cost, team, and more.
Sign the Agreement
When all the details are clear, we sign the agreement and kickoff the project.
Proiect kick-off
Project Manager works on the project scope breakdown into phases to ensure on-time delivery.
Development Phase
You work with the Proiect Manager and Account Manager, review deliverables and get tangible results with each project phase.
Warranty
We offer an exclusive warranty on your product once the product is released. All IP rights, the source code, and other deliverables belong to you only.